This Saturday Barun and myself went on an early morning trip to Manchinbele Dam. It had rained heavily the night before and we were extremely skeptic whether the rain gods would allow our plan to succeed.

I desperately wanted to see sunrise(if at all it arose) from behind the dam and keeping this in mind we left at 4:30 a.m in the morning. But as luck would have it, Murphy struck and we realised we were short on fuel. It was 5:15 and we were wandering desperately on Mysore Road in search of fuel. After a wild and frantic hunt
for half an hour, we finally found a petrol bunk. It really came as a surprise to both of us that an expressway like Bangalore-Mysore highway has such few numbers of 24/7 petrol bunks.

Anyways, we finally were on track and the moment we hit off the Mysore road we could hear birds waking up. It was still gloomy with no signs of sun and we were getting a little disappointed when suddenly Sun came out of clouds. It was such a refreshing sight to see the golden sun rays falling on lush green fields.



After a bumpy ride for around 15 kms we finally got sight of the dam we were heading towards, and it was truly awesome.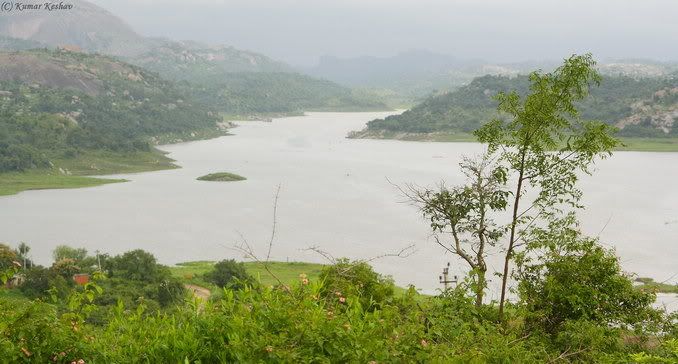 I have been to so many places in and around Bangalore both for sightseeing and for bird watching (thanks to Rohini), but this places wins in both categories hands down!
It is literally littered with birds - so many of them!

I am terrible with names of birds, so I can't say which all species did I see, but trust me I must have seen at least 15 different kinds of them.
The few that I could identify were:
Kingfishers,
Ashy Prinias and many other kinds of them,
Red whiskered Bulbuls,
Tailor birds,
Spotted munias,
Egrets,
Herons,
Laughing Doves,
sunbirds,
Robins,
Jungle mynas,
House sparrows,
Brahminy Kites,
Black Kites.

There were many more which I saw but couldn't figure out the species.

A few samples: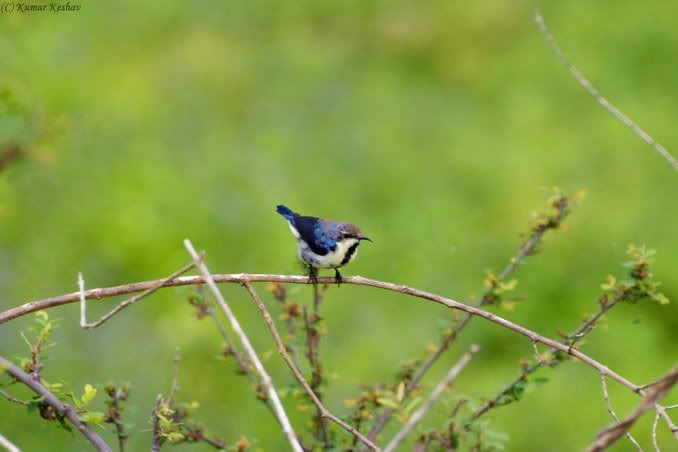 Apart from birds, as I already told, Manchinbele Dam is the most scenic and worthwhile place in and around Bangalore for a weekend getaway. With Savandurga in the background, and a huge lake in foreground it feels heavenly. One can happily sit for hours at the banks of the lake and feel rejuvenated. Every small thing there looks pretty.

Have a look yourself:



All in all, I would certainly recommend everyone looking for a weekend fun to visit this place. My trip was fully satisfactory.

Distance from Bangalore: 40 kms from Mysore Road flyover exit on your way from Hudson circle towards Mysore road

Road: Very good till Mysore Road, Bad to very bad in the first 12 kms off the main road, very good in last 5 kms.

Route(from M.G road): M.G Road->Hudson Circle->Mysore Road Flyover->Mysore Road till Kingeri-> Take a right immediately after Rajrajeshwari Dental College( It is on your right hand side exactly 2.2 kms after Rajrajeshwari Medical College)->after about 2 kms on the side road there is a small but distinguishable Y: Take Left-> Continue for another km past the Great Banyan Tree( Wonder what is great about it)-> After around 7-10 kms you will get to see the lake.

About the place: The place is totally green and free of absolutely any kind of pollution. There is nothing that you will get to eat there, though there is a Dhaba advertisement on rocks all around the place, but we found it closed. Carry your own food and water. If you like water, carry clothes to change in case you take a dip. You can even spend a night there if you are a gang of friends. You can pitch your tent and make a fire. If you like rock climbing or trekking, Savandurga mount behind the lake is perfect for that.

Request: PLEASE MAKE SURE NOT TO LITTER THE PLACE FOR IT IS SO PLEASANT AND CLEAN. YOU WILL BE PLEASANTLY SURPRISED TO SEE SUCH A LOVELY PLACE SO CLOSE TO BANGALORE. PLEASE RESPECT NATURE. :)